THE SOARING ANGELS AND LOVING HARDER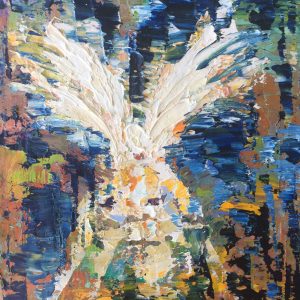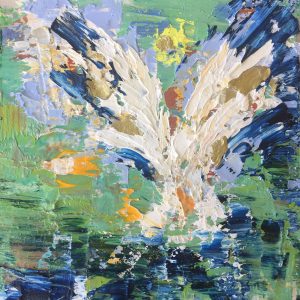 SOARING TO NEW HEIGHTS WITH TRANSFORMING LOVE
The Soaring Angels ask us to love harder, rise higher and get a bigger perspective. They have risen forth with a strength that almost takes one aback. It is no wonder that I witnessed the Soaring Angels, especially after a period where they performed harder life supporting duties of sustaining me during the loss of a loved one. Maybe they are my own Angels that morph as I do with the transformations and the journey of my particular life. Clearly they are beckoning us to love harder, renew our strength and follow this example.
I cannot be certain but I am sure of one thing…they do reflect what transpires in my life and they are here to guide me and you to a higher vibration, one with deeper love. Death and grieving hold one closer to the ground but life and love make us surge to greater heights. I feel that I channel a vibration through painting that I am suppose to then share. This brings me here to you, at this time, on this page, of this website. A divine encounter let's call it. If you have also experienced loss, we are asked to persevere and continue on our path. The Angels are here to help. And I paint and write about them.
SOARING INTO A NEW YEAR
It is indeed the beginning of a New Year! We welcomed 2019.  Each new year brings a new form of energy, a life giving and a loving form of energy. By this newness, I mean change. Change always spurts on spiritual growth. Spiritual growth can be painful or joyful but it is in the reflection and in hind site where we can see the big picture. For this we need to step out of our comfort zone, love harder and rise above our fears and insecurities. Let's take bolder steps. "Encourage" means to have more courage and it means to help each other along. It is not a lonely journey. We are to be on our journey, dependent on the divine loving spirit of God and surrounded by other humans beings.
This is what the Soaring Angels call us to be, at this new time and in this New Year…a gathering of loving humans, loving harder, soaring to new heights in dependence and gratitude, strong, brave, bold and beautiful. We got this! 
Arthur Earl Winery
2922 Grand Ave.
Los Olivos, CA 93441
(805) 963-1771
Arthur Earl Winery has Andrea's Calm Before the Harvest giclee in the tasting room along with some of her notecards.
Louies' California Bistro
1404 de la Vina St.
Santa Barbara, CA 93101
(805) 963-7003
Louies' features some very recent originals by Andrea Beloff as well as a few reproductions and it is also rated by Zagat among the top five Restaurants in Santa Barbara for food, service and decor.  It is located adjacent to the Upham Hotel.
Call now for reservations and visit their website
Key to Health Vitamin Store
Galleria Mall
Key Biscayne, FL 33149
A large display of Andrea's work is here.
Nature's Grill
566 E. Main St.
Ventura, CA 93001
(805) 643-7855
Nature's Grill features a huge selection of art by Andrea Beloff.  There are all-time favorite posters, limited editions and originals decorating the entire restaurant making it very fun.  The food is wholesome, the environment is friendly, and they are open for lunch and dinner.