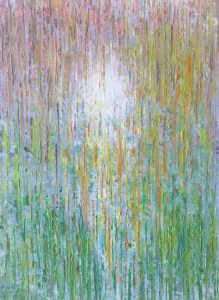 The Greatest Revelation in my Art
I have become an avid  palette knife painter. Oil paints are the most luscious and vibrant substances I have ever played with. This is where I experience the presence, guidance and messages from the Lord. It occurred during the hardest time of my life.
Consolation from God
My father and I were very close. With all its flaws, it was the greatest love i would know.  My love and admiration for him showed in many ways. This particular presence revealed in this sketch occurred just a few weeks before his passing on July 28, 2018. My last immediate relative was rapidly reaching the end of his life while in my care. The dilemma inside me was that I was so sure that I was curing my father from cancer's silent crawl. The enemy took a turn and showed frightening and ravaging signs that terrified us. All I could do was endure and accept what was happening and the only place I could stand finding any consolation was in front of the large canvas where I was sure the Lord was showing Himself to me.
How I felt His presence
This is the sketch that later would become a large 48′ X 48″ oil painting on canvas where the true consolation would take place. The art held my attention, it embraced my spirit and heart, it directed my mind. It did everything so that I would not crumble. A true example of God, His mysterious ways of making Himself known and His unfailing love. The Lord often comes through when I am is painting but on this when He held me HERE. HERE HERE HERE and no where else.
"The painting takes people aback and with great reason. It was HERE where God revealed Himself the most to me in a way that is hard to describe. His presence was so strong, His grip was so tight and the comfort was so real. The decline of dad's health was so painful to experience. My inability to part from my dad was crippling. The fight to keep him alive, to keep his spirits up and build his body back after he had let it decline so much was so tough. He was stubborn and had no self control. The disease took him to places that were very dark."
The Greatest Gift and Lesson
Thank you God for the opportunity to love and care for my father during his last year of life and for being there (HERE) for me at the capacity that you were. Nothing and no one compares to the love you show me. Only you can heal. You are in command and that became most evident. My love and faith in you has grown stronger and stronger.
Arthur Earl Winery
2922 Grand Ave.
Los Olivos, CA 93441
(805) 963-1771
Arthur Earl Winery has Andrea's Calm Before the Harvest giclee in the tasting room along with some of her notecards.
Louies' California Bistro
1404 de la Vina St.
Santa Barbara, CA 93101
(805) 963-7003
Louies' features some very recent originals by Andrea Beloff as well as a few reproductions and it is also rated by Zagat among the top five Restaurants in Santa Barbara for food, service and decor.  It is located adjacent to the Upham Hotel.
Call now for reservations and visit their website
Key to Health Vitamin Store
Galleria Mall
Key Biscayne, FL 33149
A large display of Andrea's work is here.
Nature's Grill
566 E. Main St.
Ventura, CA 93001
(805) 643-7855
Nature's Grill features a huge selection of art by Andrea Beloff.  There are all-time favorite posters, limited editions and originals decorating the entire restaurant making it very fun.  The food is wholesome, the environment is friendly, and they are open for lunch and dinner.