Inspired Artist on the Journey Home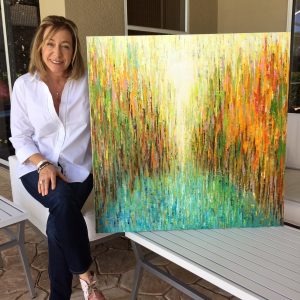 It is the most inspired time of my journey as an Artist. Painting is a true connection to the Divine Creator and a total joy . This new Series is equally as exciting as going back to Heaven, if not, all about that. Join me on our Journey Home. I am also an inspirational teacher, healer, and writing my first book. Before graduating in Fine Art from UCSB, I spent a year in Venice, Italy at the Accademia di Belle Arti completely immersed into painting and art under the influential abstract painter, Emilio Vedova. It seems clear that my career was headed in abstract oil paintings and miniature abstract watercolors, until in my final year back at UCSB, I was prompted to take the class in Traditional Japanese Papermaking, under Contemporary Master Papermaker, Hiromi Katayama. First, however, I redefined the technique in my own unique approach and now I am back to where I started…PAINTING.
From Papermaking back to Painting
My tendencies with the Paper were tropical in nature.  The play of color and texture was an overnight success story. For twenty five years and with the influence of my Brasilian upbringing, the tropical landscapes created a popular long standing theme, Escape to Paradise. This artwork was seen extensively at the top Art Festivals in California as well as Florida and New York.
The Poster market enhanced the artist's reach into the world prolonging this phase.  In the course of this time I learned an artist's most valuable lesson: you cannot be a true artist when you are in an uninspired place.  Life forced me into a very long and eye opening Sabbatical. I used this time  to heal myself through art, experimenting and combining other medium with the beautiful papers I always made. I moved out of the Tropical niche that so defined me and did many new things with my art.  But I knew I wanted to try my hand at painting again as I love abstract art. I now enjoy the more energetic experience of expression through painting and especially palette knife painting.
The Sabbatical and The Transformation
In hind site the Sabbatical was an artist's dream even though the timing of it was hard. I made significant changes to my art as well as to my life.  There is renewed strength, passion and emotion in my new works and I moved to Florida, which was quite the change. Starting over proved very difficult. Success did not translate from one coast to another.
In my time painting, I surrendered all that I thought I knew best for me and upon giving all of that up, I found I was more accompanied and guided than ever before in my life. My Heavenly Father revealed Himself, so did the Angels and Holy Spirit and I started to rebuild my faith, He shaped and molded me for His purpose and my new path. The  transformed was real and I am so grateful for enduring that process. The new artwork tells the stories and reflects all the inspiration that has transpired in a very short time. My artwork accompanies every step of my spiritual growth and maturity.
I have accomplished several important Series after Papermaking tropical phase
The PAINT YOUR HEART OUT Series – 2009-2012
THE LOVE AND ABUNDANCE  Series – 2012-2013
THE PRAYERFUL ABSTRACT ART SERIES that led to the revelation of the PAINTING ANGEL COLLECTION – 2015
The SPRINGS OF LIVING WATERS – Summer  Collection – 2016
THE LIGHT SERIES – 2016-2017
THE JOURNEY HOME SERIES – 2017 and going strong
While I have not abandoned my papermaking technique and collaging, I plan to make new  and exciting advances there too in the near future. But for now, I am painting! The difference surfacing in my work now is  a bolder and more confident approach. The use of color and texture through palette knife techniques is rich and exciting and the subjects coincide with current projects and personal influences.  My art became deeper and more spiritual in nature. This new Series has allowed me to deepen my relationship to the luscious and vibrant colors and textures of oil paints that I so love.
The Artist moved to Florida in the Summer of 2012.  I left the world of outdoor Art Festivals behind to focus on my lifelong dream of opening my own Gallery and taking my art to a new level! In Mid-October 2012, I opened a Gallery/Studio at the Bird Road Art District but closed after one year. I took on a small studio in downtown Miami to mull over my next project, maybe a School/Gallery/Cafe but instead I realigned my life with God's purpose and am now in Naples since December  2015!
The Naples Art District hosts my Studio/Gallery and has ample space to teach classes.
ANDREA BELOFF
Fine Art
5760 Shirley St. #20  |  Naples, FL 34109
GALLERY NIGHT – ART ALIVE is every 1st Wednesday of the Month,  5-8pm
OPEN STUDIOS is every 3rd Saturday of the Month,11-4pm
I am available for anyone willing to see the depth and importance of this new painting stage in my life.